Or, how to revamp an old jacket and come to enjoy the thread and needle.
Have you ever tidy up your wardrobe, and found some pieces of clothing you don't remember when, where or
why the hell
you have bought?
To me, it happens on a daily basis.
Maybe because I have too much clothes. Maybe.
Or maybe because my closet is some sort of junk shop where I use to gather everything, even remotely similar to an item of clothing, that I stumble into.
Including:
things that I recover from my relatives' wardrobes (my aunts and cousins seem to have quite a good taste in clothes, quite a bad proclivity to put on weight, and some interesting tendency on giving everything they can't wear any more to
me
- so that everytime they buy some fine skirt or dress, it seem to always end up in my closet);
shirts that were my mother's in the golden days;
clothes that I find at second-hand markets;
and, obviously, things that I bought when I was in high school: and that now I wonder what I had in mind when I purchased something like that.
Well, I recently found out that, apart from a disquieting amount of clothes, in the deepest profundities of my closet - buried under tons of polka-dot fabric - layed also a wondrous gadget: a sewing machine.
After some idle practising on socks and handkerchiefs, I decided to put myself to the test and try something more challenging.
I took one of the countless clothes that I didn't know what to do with - a white, anonymous, squared cotton jacket, and I revamped it - well, sort of - in a (very approximate) imitation of a circa 1940s jacket I've seen in Bologna, into the most expensive vintage store in town.
Here's the result.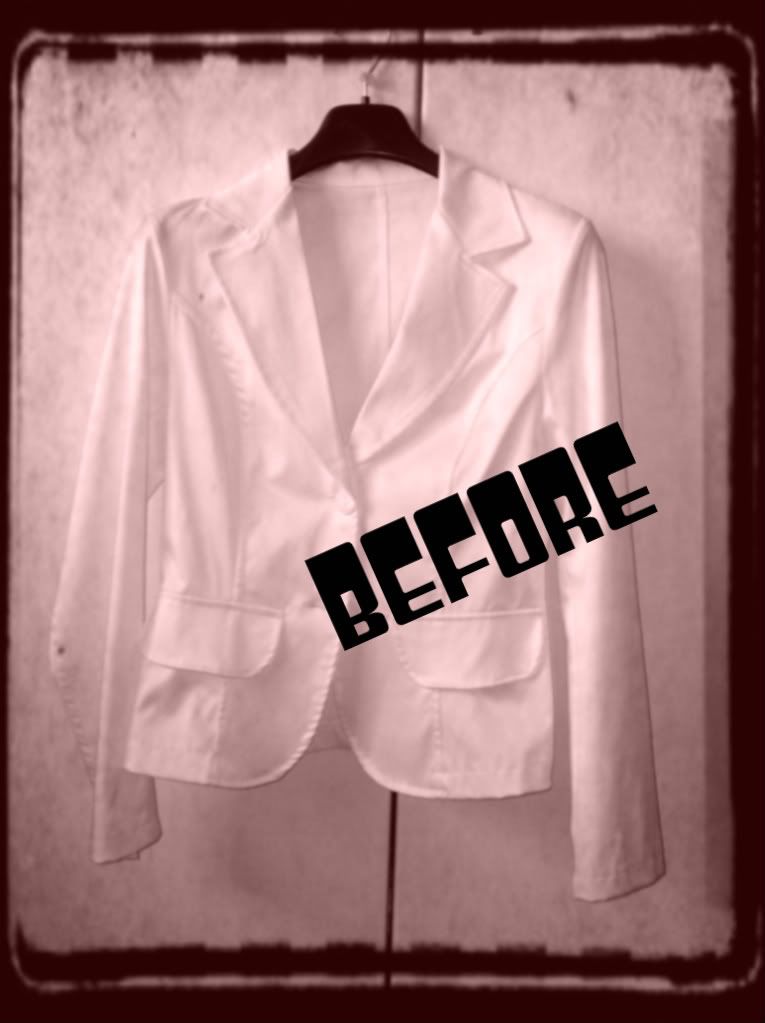 Now I'm taking a proof on an old black-and-white two-piece suimsuit.
Who knows what it's going to crop out from it...