I want to make clear first that I have some obsession for black and white clothes. I have, to make ourselves understood, a white dress with black polka dots,
and
a black dress with white polka dots; a black skirt with white embroidery, and a white skirt with a black pattern. A black dress with white flowers. A white dress with black and white flowers printed on it. Two white dresses with a slightly different black pattern. A white dress with black borders. A black and white jumper. A black halter top printed in white. Countless black and white gingham items...
Er, I think you got it.
This morning my friend Sara and I put on comfortable shoes, fresh white cotton dresses (they're not fresher than every other colour, but they look like they are), and took some water bottles, fans and sunglasses; we rolled our sleeves up, wore a ferocious expression, and we went out for a raid - er,
some shopping
at the local market.
When I say "some shopping" I don't render the idea of
what
going shopping with Sara is like.
More than a hobby, it's a mission: when we go out shopping together, we walk for, at least, five hours, with no breaks, following a schedule that would make Lt. Hartman pale.
Sara, goddamn her!, found out some super cute denim high-waisted Capri (the last pair, *sigh*), and an eye-candy ruffled shirt.
I found nothing.
Well, at least, until I saw
this
.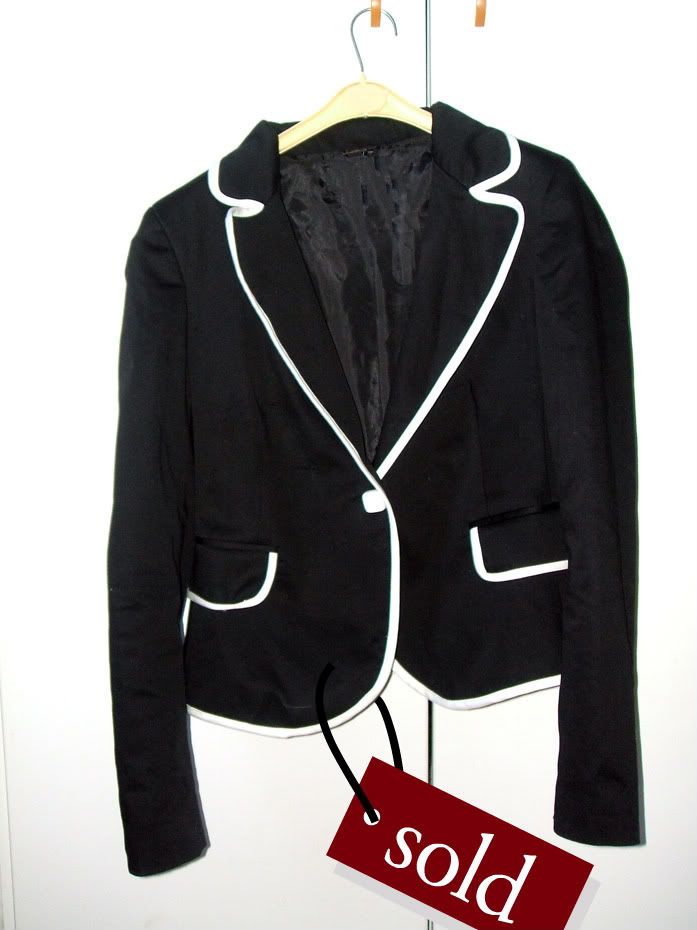 There and then, I thought I've never seen anything that reminded me more of Jackie Kennedy.
But I felt shivers down my spine when I realized
what I was staring at
: the most expensive stall in the whole market.
As usual.
I always like things I can't afford: a gift that I inherited from my mother, who is able to look at an entire clothes shop where everything -from skirts to coats - is half-price, and like the only pair of gloves that are
full price.


However.
I shyly took a glance on a random label - and my heart sank: 150 € (nearly 215 $)
for a
vest?!
What the hell...?
My friend tried to encourage me ("C'mon, don't give up hope... Maybe they have sales"), but I knew she was only trying to make me forget that she bought the last pair of those Capri.
But, unexpectedly,
she was right.

Actually, not only they
had sales
, but the jacket in point was, miracolously, one of those
items that, having a little flaw, can not be sold at the full price (someone told me the English for this kind of clothes is "seconds": can someone tell me if it's correct?).
So, I took courage and I pronounced the terrible words.

How.
Much.
Is.
It?
Da-da-da-daaaam.


But...
Nobody was happier than me to hear the answer: 15 € - about 20 dollars!
So, here I am, now. With my brand-new black and white jacket.
Onassis, here I am!